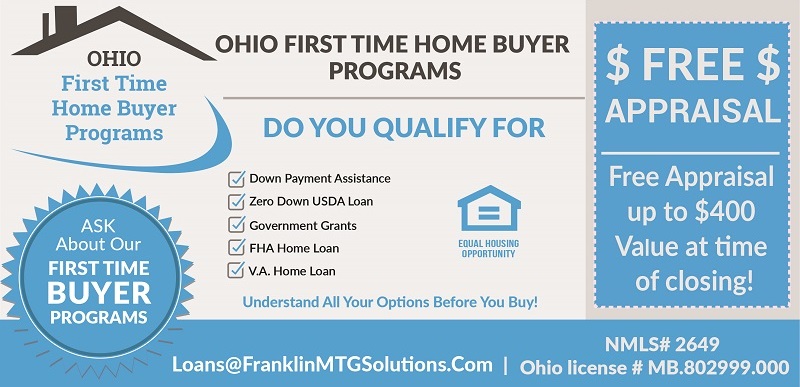 9 Step First Time Home Buyer Guide
If you're buying a house for the first time, don't stress. This in-depth buyer's guide can prepare first-time home buyers for the process of buying a house that fits your wants, needs, and budget. This buyer's guide should help alleviate any unwanted stress when buying your first home. We offer first time home buyer programs in both Dayton and Cincinnati Ohio.
#1 Get A Copy of Your Credit Report
Your credit score does not just determine whether you'll be able to secure a home loan, it will also determine what type of interest rate you'll qualify for when securing a home loan. Generally, a home mortgage loan cannot be secured unless you have at least a 660 credit score. The better your credit score, the better interest rate you will receive. If your credit report shows outstanding or unpaid debts, maxed-out credit cards, late payments, liens, or a bankruptcy, you would probably be expected to apply a larger down payment in order to secure the loan – if you were even approved for a home loan or qualified for a first time home buyer program.
There are three major credit reporting agencies (credit bureaus) that creditors report to, Trans Union, Equifax, and Experian. It's important to understand that you must check all three credit bureaus, as some creditors only report to one or two of the bureaus. There are many different companies out there offering "Free Credit Reports" – so proceed with caution. By law, all three credit bureaus, Experian, Equifax & Trans Union, must issue you a free credit report once a year.
#2 Contact A Mortgage Broker (Loan Officer)
You'll want to contact a mortgage consultant or home loan lender and secure a pre-approval letter by providing some basic information. Keep in mind, there is a big difference between a "pre-approval letter" and a "pre-qualification letter." A pre-qualification letter is as simple as calling a mortgage broker and asking for one (I'm serious). A home loan pre-approval letter, on the other hand, requires proof and verification of all information provided.
A home loan pre-approval letter is important for many reasons, but I'll name just a few. First and foremost, it tells you how much of a home loan you qualify for (how much money you can borrow). Second, a pre-approval letter tells your real estate agent that you are a serious buyer and it gives your real estate agent a definitive purchase price. Once your real estate agent knows your price range, the more specific he/she can be when searching for homes to show you. Third, a pre-approval letter gives you more leverage when negotiating with sellers. Generally, sellers prefer negotiating with pre-approved buyers because they know that pre-approved buyers are financially qualified to obtain financing to close the transaction.
#3 Find A Real Estate Agent (Realtor)
Finding a professional real estate agent is crucial when buying or selling a home. A qualified professional Realtor will walk you through most, if not all, of the steps mentioned in this home buyer's guide. There are two types of real estate agents: a "buyer's agent" and a "listing agent." When buying a home – which is what we are addressing in this post – you'll be interviewing a "buyer's real estate agent." If you were selling your home, you would be interviewing a "listing real estate agent."
The seller pays the commission to your buyer's agent, so it costs you nothing to hire a real estate agent. Your real estate agent serves you by informing you of houses, townhouses & condos available that meet your needs (realtors have access to their local MLS real estate database) and by answering your questions about the buying process. In theory, your real estate agent should negotiate on your behalf and successfully secure the best price possible.
#4 Decide Where You Would Like To Buy A House
Discuss with your real estate agent what part of town you would like to live in, specific school district, certain neighborhood, the exact amount of your pre-approval letter, and how much you are willing to spend on your new home. Once your Realtor has this important information, he/she can start to research homes for sale that match your specific criteria. Once your real estate agent has found two or three homes he/she feels you may be interested in, they will coordinate with your schedule and set a time to show you the houses.
#5 Check The Property Disclosure Forms
A property disclosure form outlines specific problems (issues) with the house that the seller knows about and is mandated by law to disclose to all future buyers. If you are satisfied with what you see in the property disclosure form, you can move on to the next step in the buying process.
#6 Contractually Submit An Offer On The House
Now that you've just submitted an offer on your desired home, hopefully the seller will accept all terms. If not, you will likely see a counter offer. If the seller returns a counter offer, your real estate agent will present this to you and from there you can either decide to stop negotiations and continue to search for a different house, counter the counter offer, accept the counter offer with conditions, or accept the counter offer as is and move on to the next step in the buying process.
#7 Order A Complete Home Inspection
Now that you and the seller have contractually agreed on a price, it's time to order a complete home inspection by a certified home inspector. Generally, the home inspection is paid for by you, the buyer. Certified Home Inspectors charge anywhere from $350 to $500 depending on the size of the home. You're probably asking yourself, "why would I need a home inspection when I have a signed property disclosure form?" A home inspection may turn up problems with the house that the current homeowner (seller) wasn't even aware of and isn't listed on the property disclosure form. If the home inspection turns up problems not listed in the property disclosure form, you can request that the seller cover the cost to fix the problems, lower the price of the house, or simply walk away from the deal if the contract allows for that option.
Although the home inspector will give you a full inspection report after the entire home has been inspected, it's always helpful to take notes of your own. Download our printable "Home Inspection Checklist" that you can bring with you on the day of your home inspection.
#8 Your Lender Will Have The House Appraised
Your lender (bank) will have the house appraised by a certified real estate appraiser to ensure the house is worth what you're paying for it. The bank will not approve a home loan for $150,000 when the house is only worth $110,000. For the most part, you (the buyer) will have to pay for the appraisal up front, otherwise the cost of the appraisal will be calculated into your closing cost. Besides paying for the cost of the appraisal, you have nothing to do with this part of the buying process.
#9 Closing On Your New Home
You are now ready for the final step in the buying process: attending the closing. Generally, the closing is held at either a real estate office, title company, or the lenders location. The closing table is where you will fill out the final paperwork and pay closing costs (down payment), unless the costs were rolled into the mortgage. If the costs were not rolled into the mortgage, you will either have to bring a certified money order or have your bank wire the funds to the closing company. Congratulations – you now own your very own home and a piece of the American dream!
First Time Home Buyer Checklist
Costs can take unprepared first time home buyers by surprise- whether they are unexpected, or unexpectedly large. Investigate, shop around, and plan and you will minimize surprises that otherwise throw off your spending plan. As a first time home buyer, you can help protect yourself from overspending by downloading our printable "First Time Home Buyer Checklist."
I Would Like More Information On First Time Home Buyer Programs In Ohio