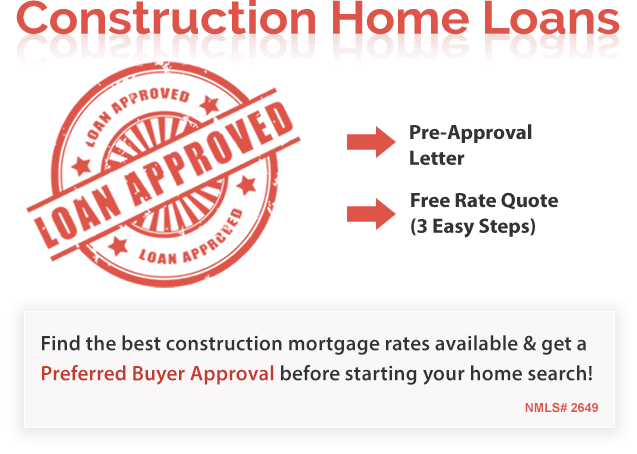 Your Information is secure
< Back

Your Information is secure
So you've decided to build your own home in Dayton, Ohio? Maybe your new home will be in Montgomery County, outside the city limits. The first couple of questions most people building a new home ask are, "How do I start building my new home?" and "How do I apply for a new home construction loan?"
Constructions Loans in Dayton, OH
The first thing that you will need is a construction loan. Unlike a regular mortgage, that is a lien against your real property, a construction loan is money loaned to you that you can draw from to pay for the costs of constructing your home. It acts as an easy line of credit that you are able to use for contractors, materials, permits and licenses, and much more, during the construction phase of your project.
Construction Loan to Permanent Loans
Once your home is finished, you will need to refinance to a regular mortgage. Your mortgage will include the cost of the construction loan as well as the lot, the insurances, and everything else that you need to properly finance your home.
In Dayton, OH, a construction to permanent loan through Franklin Mortgage Solutions is less expensive because they are able to offer you both types of financing. Franklin Mortgage Solutions will provide you with the construction loan and then automatically convert your construction loan to home loan. There is only one closing, one company to work with and no hassle.
What Does a Construction Loan Cover?
The construction loan for your new home will cover everything about the construction itself. It covers everything that is actually attached to your home:
Frame
Siding
Windows
Floors and flooring
Installed appliance
Plumbing and electrical systems
Driveway and attached garage
What it does not cover is anything not included in the original estimates and anything that is not physically attached to the house, like furniture.
A construction loan is kind of like a credit card designed specifically for the building of your home. Unlike a credit card, you typically cannot simply access the line of credit.
You will need to submit detailed cost estimates. Your contractor will also need to be a part of the process to make sure that you have all of your costs covered.
Once your new home construction loan is approved, your contractor will put together disbursement request documents. These documents will tell the lender, in Dayton, OH, Franklin Mortgage Solutions, that they need funds to buy materials and pay expenses. They will then disburse those funds.
As each phase of the construction project is completed, there will need to be another disbursement request.
Once the home is completed, you will refinance the construction loan to a regular mortgage. At that point, rather than being a line of credit, it will become a traditional lien on the real property that you occupy.
What Do I Need To Get a New Home Construction Loan in Dayton, OH?
The information that you need to provide is pretty much what you would expect:
Appropriate financials
Detailed blueprints and home plans
A general contractor chosen
A thorough cost estimate, including all of the labor and the materials
An estimated timeline for completion of each phase of the project
An estimated final completion date
Once everything is in order, Franklin Mortgage Solutions will open up the line of credit for your construction loan and you can begin the withdrawal process.
The Residential Real Estate Price Market
Recent home sale prices in Dayton and Montgomery County have been climbing. Now is an excellent time to begin construction of your new home. Starting a home now is likely to be an excellent investment as home prices are still relatively low compared to prior years.
Dayton, Ohio Construction Loans
We can't speak for the whole country, but here in Dayton OH and Montgomery County, Franklin Mortgage Solutions promises a simple, no-hassle construction loan process. Contact Franklin Mortgage Solutions today and they will help you build your dream home as soon as possible.
Contact Us With Questions About Construction Loans