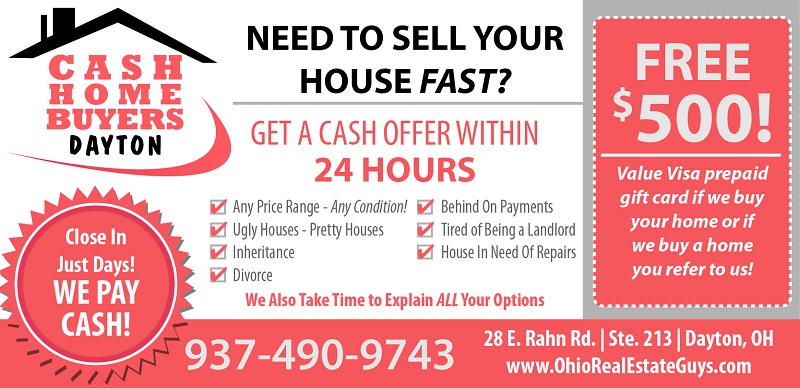 I Need To Sell My House Fast Dayton Ohio
If you're saying to yourself, "I need to sell my house fast," we can help! We buy houses cash in Dayton, Cincinnati & Columbus Ohio, regardless of the property's condition. We pay cash for houses and close within 7 days. If you are wondering how to sell your house fast, we will explain the entire process in detail.
Our Process When We Buy Houses For Cash
You enter some basic information about the house you are interested in selling.
We will arrange a time to view the house you're selling and to also talk numbers.
If we are interested in buying your house, we will make a no-obligation cash offer.
If you accept our offer to purchase, we will draw up a contract & buy your house fast for cash.
Get a CASH OFFER Now!! Sell Your House Fast Dayton Ohio
Cash For Houses Vs Traditional Sales Process
When you sell your house fast for cash, you will NOT pay a real estate commission or brokerage fee. Because we pay cash for houses, we can close on your home and get cash in your hand within 7 days. Those who choose to sell their home by hiring a Realtor® can expect the traditional sales process to take anywhere from 60 – 90 days and generally even longer. You will also have to pay Realtor® fees, brokerage fees, and possibly a portion of the closing costs, if not ALL closing costs.
Steps When Selling A House With A Realtor®
List your house for sale on the Dayton MLS (Dayton Multiple Listing Service).
Hold an open house every week while waiting on an offer to buy.
Wait for interested home buyers to schedule showings on your house.
Once your Realtor has found a buyer, start the negotiation process.
Once you have an accepted contract, the buyer will order a home inspection.
Be patient; the inspection period often takes up to 14 days to complete.
After inspections are complete, the buyer may ask that you fix any/all needed repairs.
Before you sell your house, you will need to obtain a completed title search & estoppel letter.
After a successful title search, wait on the bank to appraise your house.
Once the bank has successfully appraised your house, the buyer can now schedule a closing date.
In most cases, hiring a local Realtor® to sell your house is a great idea. But, if you are trying to sell your house fast for cash, the time frame it takes for a traditional sale may not be your best option. Contact us now for a NO-OBLIGATION CASH OFFER!
Our 100% Satisfaction Guarantee
Once you agree to sell your house cash, we guarantee your total 100% satisfaction. Even if you don't accept our cash offer, we are still willing to help you find someone who will better serve your needs. When you work with us, whether you agree to sell or not, we want to make sure you're taken care of. Give us a call today to learn more and speak with us directly: 937-490-9743
How To Sell Your Home Fast For Cash