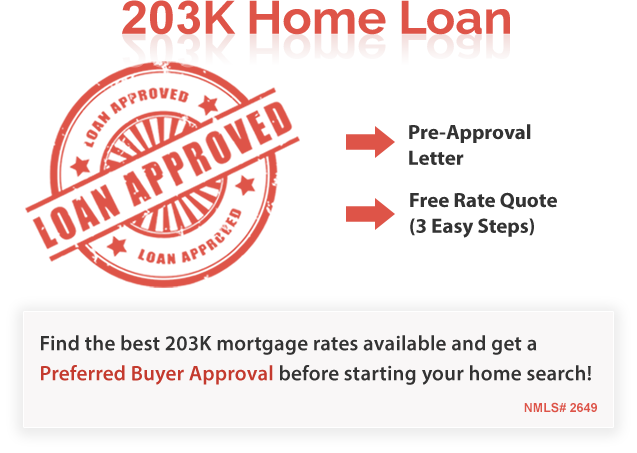 Your Information is secure
< Back

Your Information is secure
203K Loans in Dayton, Ohio
The 203K loan is a unique creature. The Federal Housing Authority (FHA) offers this special loan as a 'fixer-upper' loan. It allows FHA qualified persons to buy a house and include the cost of repairs and improvements in their mortgage.
The Advantages of the 203K Loan
By putting your construction/home improvement loan together with your mortgage, you are able to reduce your closing costs. You end up paying only one set of closing costs.
This is loan insurance backed by the US Federal Government. For the lenders, they are able to finance a property that doesn't have the full value until after the repairs are made. Since the lender can feel more secure, the rates tend to be lower and people who might not otherwise be able to get a construction loan to get one loan that will also cover the repairs and the mortgage of the property.
The Rules for the 203K Loan in Dayton
As with 203K loans everywhere in the US, most of the rules that apply to FHA loans apply in the case of 203K loans. In Montgomery County and Dayton, the value of the home for an FHA loan is $271,050 on a single family home after the completion of improvements.
Federal Housing Authority (FHA)
The Federal Housing Authority (FHA) was created in 1934 and it changed the entire business of buying and selling homes in the United States. Here are just a few reason why the Federal Housing Authority and FHA loans have made it easier for people entering the real estate market to buy or sell a home.
Prior to the FHA, borrowers were expected to put down as much as 50% of the cost of the home.
The loan insurance program has been able to protect lenders against bad loans. That has reduced the overall costs of doing business for banks and mortgage companies.
FHA mortgages only require 3.5% down payment of the total mortgage amount.
In its 80+ years, the FHA has insured over 34 million mortgages.
How Can I Use a Dayton FHA 203K Loan?
The FHA is very clear about what you can use 203K loans for.
You can use 203K loans to purchase a home on a plot land, and then repair it.
You can use 203K loans to purchase a home on a piece of land, move it to a new piece of land, and then fix it up.
You can refinance an existing home and use some of the money to fix it up.
What Does All of This Mean to Me?
If you are in Dayton Ohio or surrounding counties, an FHA 203K loan allows you purchase a home that is not perfect, but can be repaired and turned into a great home. This allows you to look at homes that are in less than ideal condition. Traditionally, FHA loans require a home to be in very good shape. This loan allows for a much broader variety of homes to be considered for these federally guaranteed loans.
If you have questions about 203K loans or about the 203K loan application, please contact Franklin Mortgage Solutions at (877) 743-1200 and a local Dayton, Ohio mortgage broker will be happy to help.
Contact Us With Questions About A 203K Loan