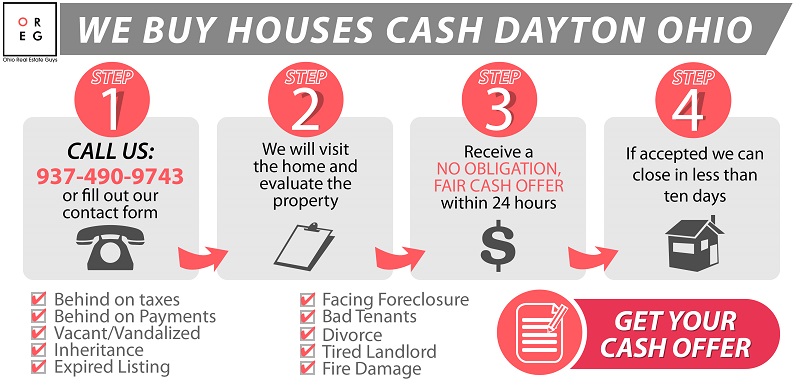 We Buy Houses For Cash in Dayton, Ohio
We're a group of local, Dayton Ohio real estate investors who buy houses for cash. We are currently interested in buying homes or real estate property in any condition or any location within the state of Ohio. Do you currently have a house for sale that either isn't selling or needs too many repairs? We have the capital to buy houses cash and close the entire real estate transaction in as little as 10 days.
Before buying a house or piece of real estate property, we will need to gather a little more information. Below, you'll have an opportunity to fill out our contact form and speak with one of our "We Buy Houses For Cash" team members about getting a cash offer on your home or property. If you currently have your house for sale with a Realtor or real estate agent, we will more than likely not be interested in buying the home.
Sell Your Home Fast?
If you've been thinking, "I Need To Sell My House Fast," you've come to the right place. No matter what the situation, we can help you sell your home fast. We have an extensive list of local real estate investors that also buy houses cash and will close the entire real estate transaction within 7 – 10 days.
Our Process When We Buy Houses For Cash
1. Enter some basic information about the property you are interested in selling.
2. We will arrange a time to view the property you're selling and to also talk numbers.
3. If we are interested in buying a house, we will make a no-obligation cash offer.
4. If you accept our offer to purchase, we will draw up a contract and buy your home fast.
We Buy Houses Cash In The Following Ohio Cities
We buy houses cash in Cincinnati, Columbus, Beavercreek, Kettering and Dayton Ohio. If you have a property in one of these three Ohio cities that you are interested in selling fast for cash, please feel free to give us a call or fill out our "Cash Buyers" contact form below. If you have a property that is located outside of Ohio, please give us a call as we have real estate investors all over the United States that may be interested in making you a cash offer and buying your house cash.
What Types of Houses Do We Buy?
1. Vacant homes
2. Probate Homes
3. Inherited Homes
4. Foreclosed Homes
5. Divorce Settlement
6. Behind on property taxes
7. Behind on mortgage payment
Speak with us directly about a no-obligation, cash offer, by contacting us at (937) 490-9743
Contact Us To Sell Your Home Fast - We Buy Houses Cash!