OPEN HOUSE FINDER
LOCATE OPEN HOUSES IN DAYTON OHIO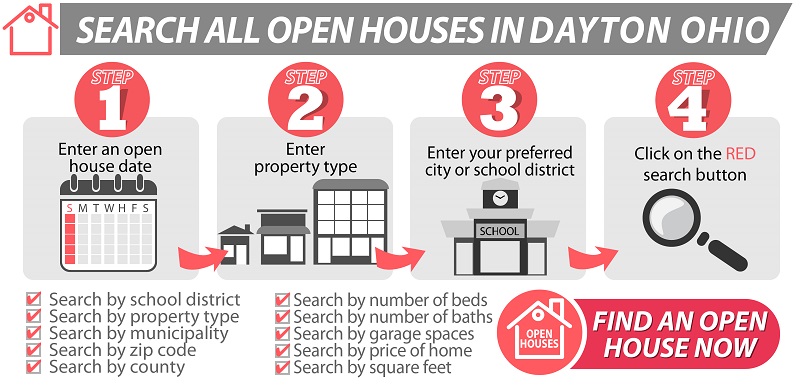 10 Steps to Hosting an Open House
Open houses are a tried and true way to sell a home, but you need to do it well and know how to handle each of your visitors. We thought it would be helpful to create a step-by-step guide to hosting the perfect open houses for Dayton, OH residents.
Pick a weekend day to host your open house. It may be helpful to check whether any major local events are happening the same day, which could interfere with your open house traffic.
Check and see whether there are any other open houses nearby scheduled for the same day. You can easily find Dayton open house information here at OhioRealEstateGuys.com. Although you may think it's an inconvenience to have other open houses nearby, it can actually increase the number of people that come through your home.
Now that you have settled on your date, you need to advertise:

Open houses in Dayton are frequently listed in the Dayton Daily News.
Post your open house details on any online real estate calendars.
Consider posting your open house on Craigslist.
Some community calendars let you post open houses.
Post fliers in local grocery stores, laundromats, fitness centers, libraries, apartment complex lobbies, etc… Just be sure to check their specific solicitation rules first and remember to take your fliers down afterwards.
Strategically place "Open House" signs out the night before, directing potential buyers toward your property.

The night before, clean up the house and secure any valuables. Important or expensive valuables, collectibles or confidential information should be secured in a hidden area.
You may also want to purchase bottles of water and/or soda, ice and small snacks to offer open house visitors.
In the morning, put out an Open House registration form. Inform visitors that you will only contact them with news, such as price changes or favorable terms they may be interested in.
Put a cookie sheet in the oven with a decent sized puddle of vanilla extract on it. Turn the oven to 200℉. This makes the house smell like you're baking cookies and the psychological effect is powerful. Or, just bake cookies to offer your visitors!
Greet everyone as they come in. Offer to answer questions. Provide general directions, such as, "The master bedroom is downstairs with a full bath. Two bedrooms upstairs with a full bath. A swimming pool out back." Allow visitors to freely walk around on their own.
Once people have had some time to walk around, offer to answer any questions. Mention one interesting feature from an area where they lingered, such as "All three bedrooms have walk-in closets. That's been great for my family."
After everyone has left, send an email to everyone that filled out the Open House registration form, thanking them for visiting. Be sure to include a photo of the house and the address, along with your contact information.
If you plan to attend an open house in Dayton Ohio or a surrounding city, you've come to the right place. Here at OhioRealEstateGuys.com, you can utilize our open house finder to locate open houses that are being held in and around the Dayton Ohio area. You can search and find an open house by city, county, zip code & school district. Simply click on the image at the top of this page, enter your search criteria and hit the "SEARCH" button. If you have any questions about a Saturday or Sunday open house in Dayton Ohio or the greater Miami Valley area, please give us a call at (937) 490.9743 or send us an email at info@ohiorealestateguys.com.
Contact Us With Questions About An Open House in Dayton Ohio